About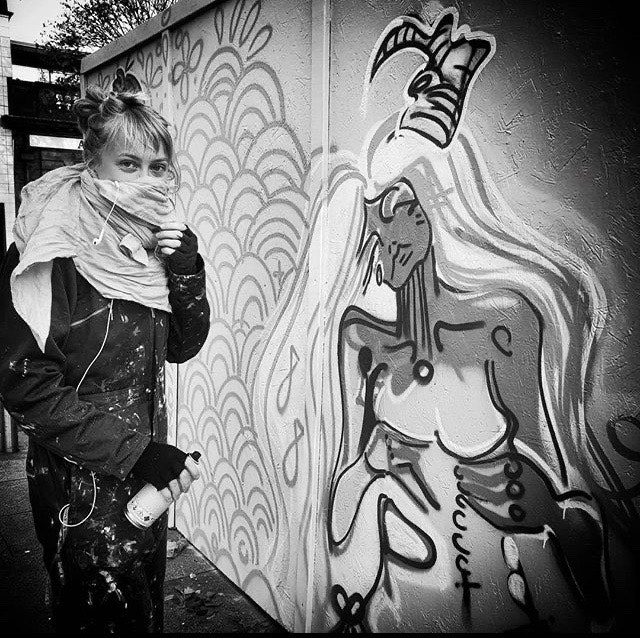 Hola! I'm an artist and job drifter living in Nottingham. I don't like to pigeon-hole myself or my practice, but I mainly draw and paint colourful characters- some vulgar, some sweet depending on what I had for breakfast.

When I was 11 our family moved to southern Spain. After spending my entire adolescence living in a quiet rural village, I decided that I'd had enough of school and my hysterical history teacher, of my unsuccessful love life and the monotony of the beautiful but isolated bubble I lived in . With a slap dash plan and £200 euros I decided to pack my Pingu pouch and move back to my birth town, all in the name of ART!
I started college to only drop out (AGAIN) a month later- I'd been out of the country for so long that the government didn't fancy chucking me a few squids towards a roof over my head. Cheers for that!! Thanks to my big sis she gave me the support I needed and pushed me in the right direction. With some determination fast forward a few years and I've got a fresh pencil case ready for school again, studying Decorative Arts at Nottingham Trent and joyfully reaping the benefits of being an estranged child.
These days I rent a cosy studio space at Surface Gallery, just opposite Sneinton Market where I go to comfort eat big bags of quavers, stare at the wall for ages or even make artwork. I still don't know where I'm headed- my feet are here, my heart in Spain and my head up my arse but for as long as I can I will remain faithful the my love/hate relationship with art and myself, to the struggle and to my southern roots.
Salud putas.
Photo by @Nottinghamblackwhite
.